Talking With Your Doctor
Make the Most of Your Appointment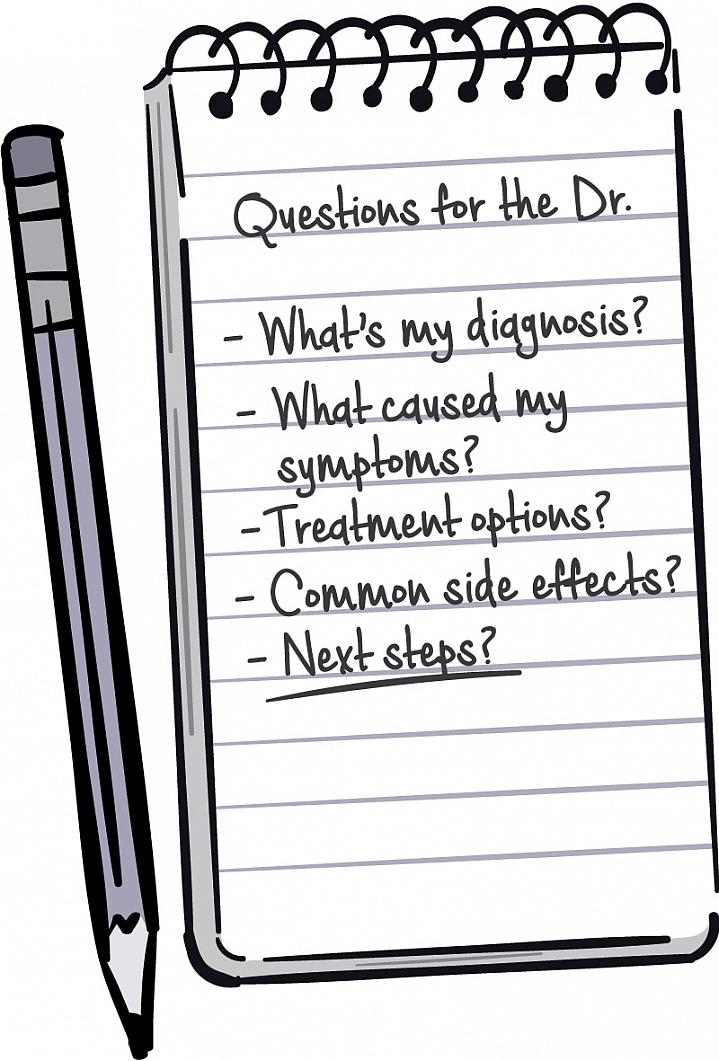 Patients and health care providers share a very personal relationship. Doctors need to know a lot about you, your family, and your lifestyle to give you the best medical care. And you need to speak up and share your concerns and questions. Clear and honest communication between you and your physician can help you both make smart choices about your health.
Begin with some preparation. Before your health exam, make a list of any concerns and questions you have. Bring this list to your appointment, so you won't forget anything.
Do you have a new symptom? Have you noticed side effects from your medicines? Do you want to know the meaning of a certain word? Don't wait for the doctor to bring up a certain topic, because he or she may not know what's important to you. Speak up with your concerns.
"There's no such thing as a dumb question in the doctor's office," says Dr. Matthew Memoli, an infectious disease doctor at NIH. "I try very hard to make my patients feel comfortable asking questions, no matter how dumb they think the question is."
Even if the topic seems sensitive or embarrassing, it's best to be honest and upfront with your health care provider. You may feel uncomfortable talking about sexual problems, memory loss, or bowel issues, but these are all important to your health. It's better to be thorough and share a lot of information than to be quiet or shy about what you're thinking or feeling. Remember, your doctor is used to talking about all kinds of personal matters.
Consider taking along a family member or friend when you visit the doctor. Your companion can help if there are language or cultural differences between you and your doctor. If you feel unsure about a topic, the other person can help you describe your feelings or ask questions on your behalf. It also helps to have someone else's perspective. Your friend may think of questions or raise concerns that you hadn't considered.
Many people search online for health information. They use Web-based tools to research symptoms and learn about different illnesses. But you can't diagnose your own condition or someone else's based on a Web search.
"As a physician, I personally have no problem with people looking on the Web for information, but they should use that information not as a way to self-diagnose or make decisions, but as a way to plan their visit with the doctor," says Memoli. Ask your doctor to recommend specific websites or resources, so you know you're getting your facts from a trusted source. Federal agencies are among the most reliable sources of online health information.
Many health care providers now use electronic health records. Ask your doctor how to access your records, so you can keep track of test results, diagnoses, treatment plans, and medicines. These records can also help you prepare for your next appointment.
After your appointment, if you're uncertain about any instructions or have other questions, call or email your health care provider. Don't wait until your next visit to make sure you understand your diagnosis, treatment plan, or anything else that might affect your health.
Your body is complicated and there's a lot to consider, so make sure you do everything you can to get the most out of your medical visits.
Article Review. This special issue is a collection of previously published articles. However, articles were updated and re-reviewed by NIH experts prior to inclusion. Published December 2017.
NIH Office of Communications and Public Liaison
Building 31, Room 5B52
Bethesda, MD 20892-2094
nihnewsinhealth@od.nih.gov
Tel: 301-451-8224
Editor: Harrison Wein, Ph.D.
Managing Editor: Tianna Hicklin, Ph.D.
Illustrator: Alan Defibaugh
Attention Editors: Reprint our articles and illustrations in your own publication. Our material is not copyrighted. Please acknowledge NIH News in Health as the source and send us a copy.