Be a Citizen Scientist
Help Researchers Solve Puzzling Problems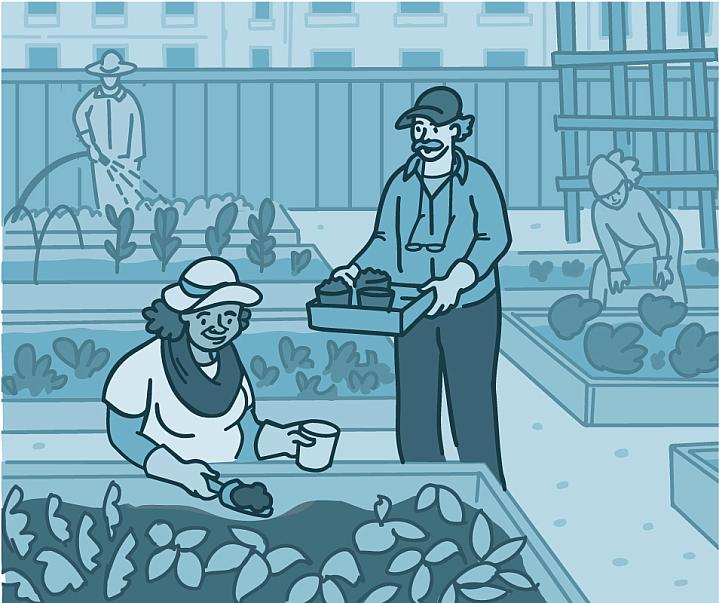 Did you know that you can team up with scientists to help medical research? You don't need an advanced degree or special knowledge of science. You can become a "citizen scientist" by simply devoting some of your free time to ongoing research projects. Your efforts can help to increase medical knowledge and might lead to new treatments.
Your role could be as simple as playing an online game or sharing a blood sample. Or you could help collect data in your community. You might even help guide the types of questions researchers are investigating by sharing your ideas or concerns.
"People are creative and innovative. They have all sorts of skills and contextual knowledge," says Dr. Jennifer Couch, who heads NIH's citizen science working group. "Citizen science in its broadest sense draws on the insights and talents individuals have to offer."
Citizen science can go by different names. Each can have slightly different meanings. It may be called participatory or contributory science. It's sometimes called crowdsourcing, community-engaged research, or public-partnered research.
Some projects are limited to specific types of volunteers. You might need to be of a certain age or live in a specific region. Some projects are designed for people who have certain health conditions. But others are open to everyone.
All of Us
NIH's All of Us Research Program invites just about anyone in the U.S. to join. The program aims to partner with at least 1 million people nationwide to build one of the most diverse health databases in history. So far, about 500,000 people have fully enrolled. Researchers are using their data to study a wide range of health issues.
Diversity among participants is key for this study. Our cultural practices, biology, and geneticHaving to do with genes, stretches of DNA you inherit from your parents. Genes can affect your risk for certain diseases. make-up can have a big impact on our health. So can the places where we live and work. Researchers aim to understand how these many factors affect our health.
"Some groups, like Asian Americans, Native Hawaiians, and Pacific Islanders, have been left out of these kinds of studies in the past. But we don't want any groups of individuals to be left behind," says Dr. Fornessa T. Randal, executive director for the Asian Health Coalition, a national community engagement partner for All of Us. "All of Us is trying to include everyone."
To join All of Us, you complete an online consent form and surveys. You can get more involved by agreeing to share data from your electronic health records. You may be invited to a free appointment to give samples like blood or saliva.
You can decide how much information you're willing to share.
One benefit of joining is you can choose to get information about your own health. You might learn more about your genes or disease risk. You'll also be contributing to scientific knowledge. This could improve medical care for yourself and future generations.
Game Time
NIH has also supported several online games and activities over the years that contribute to science. The games are free to play.
All of Us has a new game component called "Exploring the Mind." It includes online quizzes and puzzles that measure things like your attention span and ability to recognize emotions. It's available to most participants enrolled in the program.
Another project called "MindCrowd" is studying how brain function changes with age. Volunteers take a 10-minute online memory test. You can take the test several times. The gathered data may help scientists find ways to protect memory as we get older.
"Eyewire" is an online puzzle game that's somewhat like a 3D coloring book. Players view images of brain tissue. Their challenge is to color in areas to define the 3D structure of nerve cells in the brain. The results have helped scientists find previously unknown types of nerve cells. Spin-off projects are now in development that will gather even more details about nerve cells and the brain.
"Some people are really good at puzzle solving. So games can make the most of their skills," says Couch. "Games can give you that 'aha' moment, where you stumble across something interesting that you weren't necessarily looking for."
Community Matters
Several NIH-supported citizen science projects involve working closely with communities. "One clear message we get from community members is that they don't just want to be the subjects of research. They want to be active partners," says NIH's Liam O'Fallon, an expert in community-engaged science. "They want to help with defining the questions and collecting the data. And they want to help communicate the findings."
One project lets people report on neighborhood features that can affect healthy behaviors. "The goal is to get residents to partner with researchers, so we can understand the barriers to leading healthy lives," says study lead Dr. Abby King, a professor of population health at Stanford University.
Residents use a smartphone app to collect and share data. Through photos, texts, or voice recordings, they point out problems like unsafe intersections. They report on neighborhood features like access to sidewalks, trails, or groceries. This approach is called Our Voice.
"Residents not only collect data, they also interpret it and decide what's most important," King
explains. "Then they work with community leaders or policymakers to make changes that are meaningful to them, not just to researchers."
Community data has led to sidewalk repairs and other exercise-friendly changes. An ongoing study is testing to see if the Our Voice approach can help increase physical activity among older women.
Other NIH-supported researchers worked with community groups to test levels of lead and other metals in urban gardens and yards. They shared results and recommendations with the community. They discussed ways to reduce harmful metals in gardens. Several neighborhoods in Atlanta found high levels of lead in soil. They then applied for and received funding from the Environmental Protection Agency to clean up those polluted sites.
"That was just one of many success stories," O'Fallon says. "I see citizen science as valuable for building skills and capacities. People get to really see how science works. And they can see how their environment affects their health. So this can inform decision making. It really democratizes science."
NIH Office of Communications and Public Liaison
Building 31, Room 5B52
Bethesda, MD 20892-2094
nihnewsinhealth@od.nih.gov
Tel: 301-451-8224
Editor: Harrison Wein, Ph.D.
Managing Editor: Tianna Hicklin, Ph.D.
Illustrator: Alan Defibaugh
Attention Editors: Reprint our articles and illustrations in your own publication. Our material is not copyrighted. Please acknowledge NIH News in Health as the source and send us a copy.