Improving Care Through Telehealth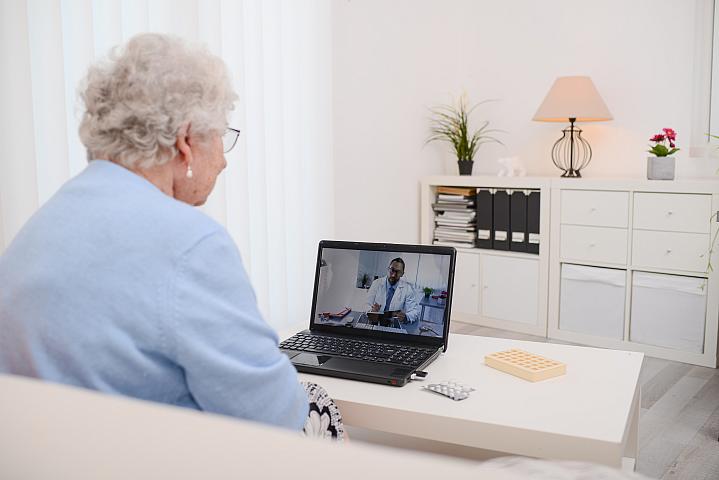 Jean-philippe WALLET / iStock / Getty Images
Technology can be especially valuable for people in remote areas or places with few medical professionals. Using portable devices, health care providers can test and treat patients without them coming into the office. This practice is called telehealth.
A doctor in a rural area can consult on a patient's scan with a specialist in another state. Someone with diabetes can monitor their blood sugar in real-time and have the data sent to their health care provider. Wearable sensors can alert a caregiver if a person with dementia leaves the house. These are all examples of how telehealth is changing medical care.
NIH researchers have been developing new ways to help treat patients where they live. For example, they've designed devices that can analyze blood samples for patients at home.
One special device can even detect cancer remotely. It snaps to a smartphone to help diagnose cancer in under an hour. And the test costs less than two dollars per patient.
The device takes a photograph of blood or saliva when mixed with tiny beads that capture cancer cells. The images are then sent to a hospital computer that can diagnose the sample in seconds. Patients can get a diagnosis and start treatment in a single trip to the clinic. This device is being tested in small village clinics in Botswana to detect a type of cancer called lymphoma.
Through advances like this, telehealth is helping medical professionals deliver effective, long-distance care. Learn more about teleheath.
NIH Office of Communications and Public Liaison
Building 31, Room 5B52
Bethesda, MD 20892-2094
nihnewsinhealth@od.nih.gov
Tel: 301-451-8224
Editor: Harrison Wein, Ph.D.
Managing Editor: Tianna Hicklin, Ph.D.
Illustrator: Alan Defibaugh
Attention Editors: Reprint our articles and illustrations in your own publication. Our material is not copyrighted. Please acknowledge NIH News in Health as the source and send us a copy.