Detecting Colorectal Cancer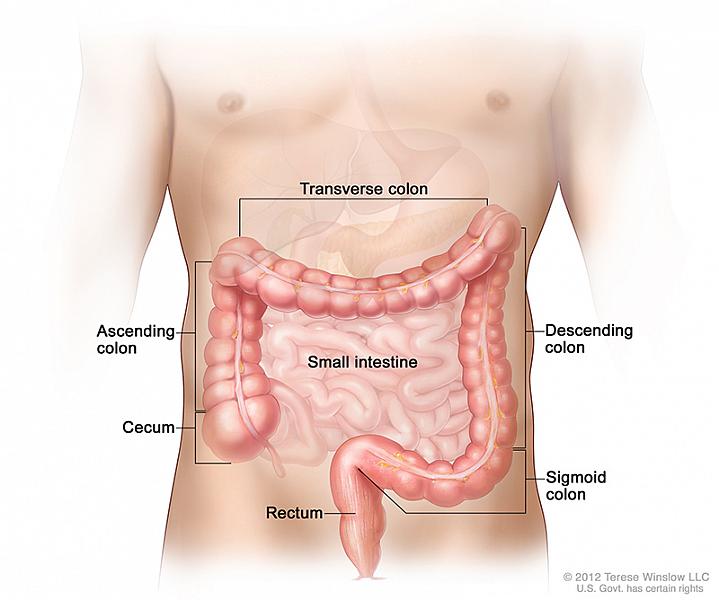 @2012 Terese Winslow LLC U.S. Govt has certain rights.
Did you know that if colorectal cancer is found early, it may be easier to treat? Many tests are available that can detect colorectal cancer during its early stages.
A colonoscopy uses a tool called a colonoscope to see inside your colon. Doctors look for cancer as well as pre-cancerous growths called polyps. They can remove any growths they find during the colonoscopy. This prevents the polyps from developing into cancer.
Other tests can be performed at home. These require you to collect a sample of stool (feces) and send it to a lab. The lab then looks for tiny amounts of blood in the stool or other signs, like cancer-specific DNA.
A newer screening test, called a virtual colonoscopy, uses X-rays to see inside the colon. If a doctor sees polyps with this test, they can remove them later with a colonoscope.
Experts recommend that most people start screening for colorectal cancer at the age of 50. If you have a family history of the disease, you may need to start screening earlier. Talk with your doctor about what type of screening would be best for you. For more information on colorectal cancer screening, visit www.cancer.gov/types/colorectal/screening-fact-sheet.
NIH Office of Communications and Public Liaison
Building 31, Room 5B52
Bethesda, MD 20892-2094
nihnewsinhealth@od.nih.gov
Tel: 301-451-8224
Editor: Harrison Wein, Ph.D.
Managing Editor: Tianna Hicklin, Ph.D.
Illustrator: Alan Defibaugh
Attention Editors: Reprint our articles and illustrations in your own publication. Our material is not copyrighted. Please acknowledge NIH News in Health as the source and send us a copy.