Vaping Rises Among Teens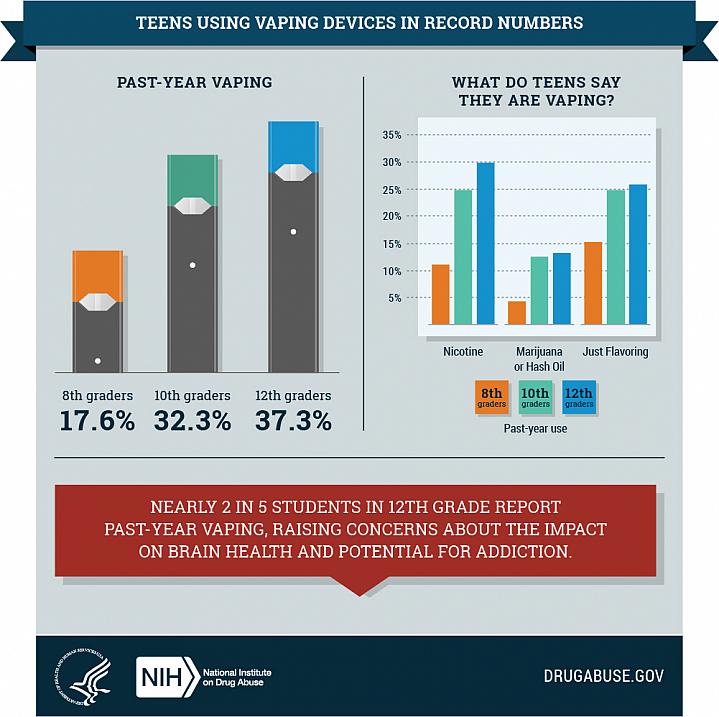 A new survey found an alarming rise in the number of American teens who tried vaping last year. The study suggests that vaping may be driving an increase in nicotine use for teens.
In vaping, a battery powered device called an e-cigarette heats a liquid into a vapor that can be inhaled. The vapor may contain nicotine (the addictive drug in tobacco), flavoring, and other chemicals. E-cigarettes can also be used with marijuana, hash oil, or other substances.
Vaping may pose serious and avoidable health risks. Exposure to nicotine during youth can lead to addiction and cause long-term harm to brain development. The vapor can also contain toxins (including ones that cause cancer) and tiny particles that are harmful when breathed in.
More than 44,000 students took part in the 2018 annual survey of drug, alcohol, and cigarette use in 8th, 10th, and 12th graders. About 37% of 12th graders reported vaping in 2018, compared with 28% in 2017. Vaping of each substance that was asked about increased. This includes nicotine, flavored liquids, marijuana, and hash oil.
"Vaping is reversing hard-fought declines in the number of adolescents who use nicotine," says Dr. Richard Miech, who led the study at the University of Michigan. "These results suggest that vaping is leading youth into nicotine use and nicotine addiction, not away from it."
"Teens are clearly attracted to the marketable technology and flavorings seen in vaping devices," explains Dr. Nora D. Volkow, director of NIH's National Institute on Drug Abuse. "However, it is urgent that teens understand the possible effects of vaping on overall health, the development of the teen brain, and the potential for addiction."
NIH Office of Communications and Public Liaison
Building 31, Room 5B52
Bethesda, MD 20892-2094
nihnewsinhealth@od.nih.gov
Tel: 301-451-8224
Editor: Harrison Wein, Ph.D.
Managing Editor: Tianna Hicklin, Ph.D.
Illustrator: Alan Defibaugh
Attention Editors: Reprint our articles and illustrations in your own publication. Our material is not copyrighted. Please acknowledge NIH News in Health as the source and send us a copy.