Protect Yourself Against HPV
Block This Cancer-Causing Virus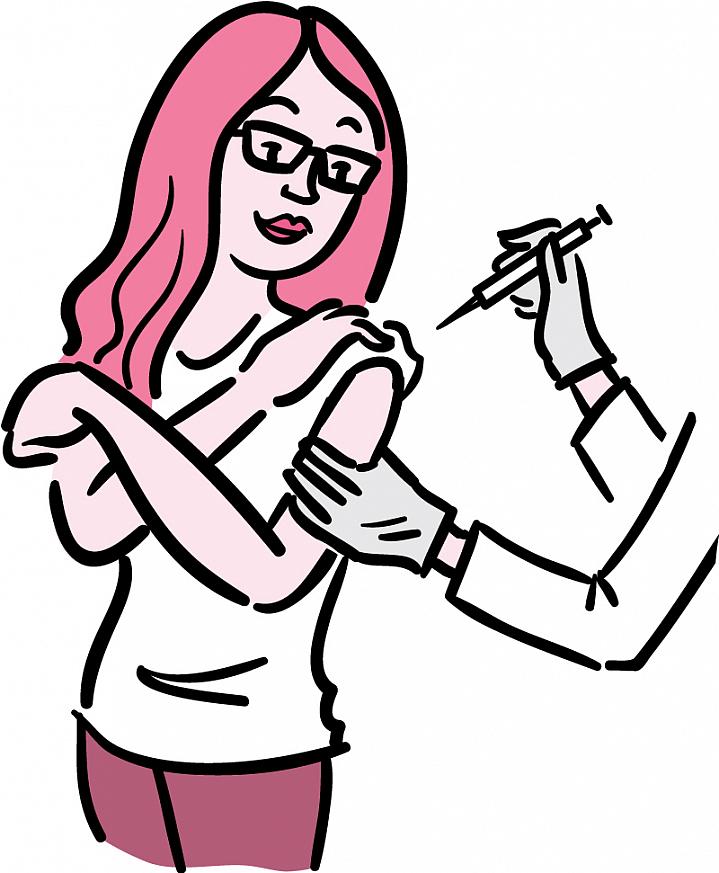 More than half of all sexually active people get a genital infection with the human papillomavirus (HPV) at some point in their lives, but most never know it. As a result, they might be spreading the virus to others without realizing it. Fortunately, vaccines are available to protect against the most harmful forms of HPV. These vaccines work best if given well before a person becomes sexually active.
HPV infection is the most common sexually transmitted disease in the United States. The virus is spread from person to person through direct contact during vaginal, anal, or oral sex.
Many different types of HPV can cause infections in the throat or genital area in both men and women. In most cases, HPV infections go away on their own without being noticed. Other times, they can cause health problems, including genital warts and certain cancers. "A variety of cancers are caused by HPV infection," says Dr. Douglas Lowy, a cancer researcher at NIH. "The most prominent is cervical cancer."
Cervical cancer is the fourth-deadliest cancer among women worldwide. Nearly all cases are caused by HPV.
The U.S. Food and Drug Administration (FDA) has approved 2 vaccines that protect against harmful forms of HPV. These vaccines were developed in part based on initial discoveries made by Lowy and his NIH colleague Dr. John Schiller.
Both HPV vaccines, called Gardasil and Cervarix, protect against the 2 types (or strains) of HPV that are responsible for about 70% of all cervical cancers. These 2 strains also cause most cancers of the anus, vagina, vulva, and the middle part of the throat (the oropharynx). Thus the HPV vaccines protect against all these forms of cancer. Gardasil also blocks 2 HPV strains that cause 90% of genital warts. Both vaccines are available for females. Only Gardasil is available for males.
"Because the vaccines only work before you get infected, and most people become infected relatively soon after they begin sexual activity, the vaccines are mainly targeted to young adolescent girls and boys," Lowy explains.
The vaccines are given in a series of 3 shots over a 6-month period. The U.S. Centers for Disease Control and Prevention recommends that all girls and boys get vaccinated at ages 11 or 12. In addition, the vaccines are recommended for teen boys and girls not yet vaccinated, young women through age 26, and young men through age 21. The vaccines are also suggested for gay and bisexual men and certain people with weakened immune systems.
"An HPV vaccine is your best opportunity to protect your child or yourself against HPV infection and subsequent disease," says Dr. Carolyn Deal, an NIH expert on sexually transmitted diseases.
Research has shown that HPV vaccines are highly effective. A recent study found that even though only about one-third of girls ages 13 to 17 has been fully vaccinated against HPV, the number of HPV-infected young women has dropped by 50% since the first vaccine was introduced in 2006. "The vaccines are already starting to have a real-world impact," Deal says. "They are safe and effective vaccines."
When you get an HPV vaccine, you're not only protecting yourself from some strains of this cancer-causing virus, you're also helping to prevent its spread to others.
NIH Office of Communications and Public Liaison
Building 31, Room 5B52
Bethesda, MD 20892-2094
nihnewsinhealth@od.nih.gov
Tel: 301-451-8224
Editor: Harrison Wein, Ph.D.
Managing Editor: Tianna Hicklin, Ph.D.
Illustrator: Alan Defibaugh
Attention Editors: Reprint our articles and illustrations in your own publication. Our material is not copyrighted. Please acknowledge NIH News in Health as the source and send us a copy.