Red, Itchy Rash?
Get the Skinny on Dermatitis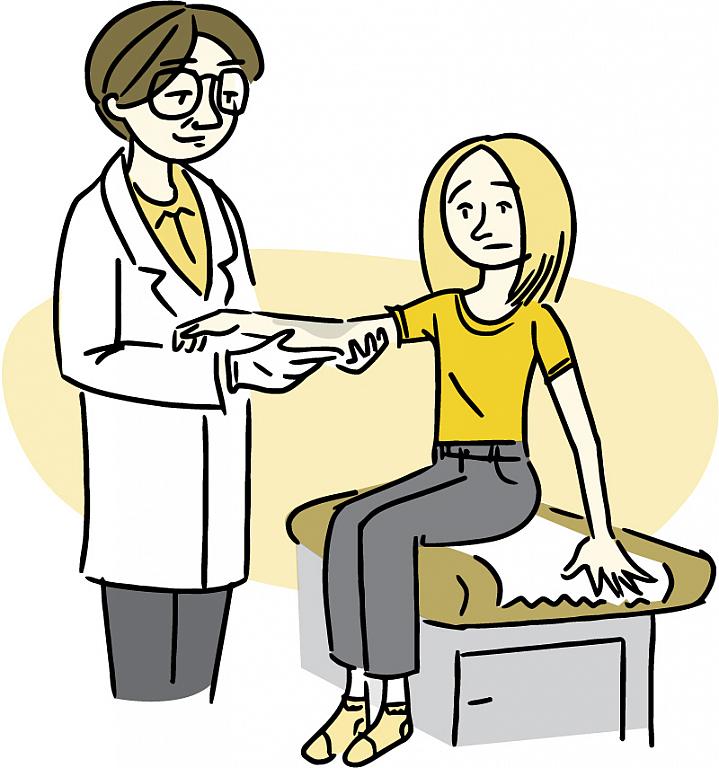 You've probably had a rash at some point or another, whether from poison ivy or the chickenpox or something more unusual. Why does your skin break out in red blotches like that? More important, is there anything you can do about it?
We often think of the skin as a barrier—it keeps the insides of our bodies in, and it keeps the outside world out. But our skin is also filled with special cells of the immune systemThe system that protects your body from invading viruses, bacteria and other microscopic threats.. These cells protect the skin and body against viruses, bacteria and other threats. Whenever these cells detect a suspicious substance, they begin a chain reaction in the skin that leads to inflammationHeat, swelling and redness caused by the body's protective response to injury or infection.. The medical name for this reaction is dermatitis. But it's more commonly known as a rash.
There are many different types of dermatitis, and each has a distinct set of treatments. Sometimes the skin's immune cells react to something that directly touches the skin. Other times, the immune system flares in the skin because of a whole-body infection or illness.
The symptoms of these different types of rashes often overlap. "Itching is a common symptom for all these problems," says Dr. Stephen I. Katz, director of NIH's National Institute of Arthritis and Musculoskeletal and Skin Diseases. Many rashes are red, painful, and irritated. Some types of rash can also lead to blisters or patches of raw skin. While most rashes clear up fairly quickly, others are long lasting and need to be cared for over long periods of time.
Eczema, or atopic dermatitis, is a dry, red, itchy rash that affects up to 1 in 5 infants and young children. It often improves over time, although it can last into adulthood or start later in life. In this condition, the water-tight barrier between skin cells gets weak, which lets moisture out and other things in. That's why people with atopic dermatitis have to moisturize their skin, and they're more susceptible to skin infections.
Researchers have recently identified specific genesStretches of DNA, a substance you inherit from your parents, that define characteristics such as how likely you are to get certain diseases. that are involved in maintaining the skin barrier. People with certain versions of these genes are more likely to get atopic dermatitis.
"The skin is the outermost sentinel for fighting off bacteria and noxious agents," says Katz. "If the barrier is broken somehow, you can become more allergic to things."
A skin allergy, or allergic contact dermatitis, produces a red, itchy rash that sometimes comes with small blisters or bumps. The rash arises when the skin comes in contact with an allergen, a usually harmless substance that the immune system attacks. Allergens trigger allergic reactions. Allergens can come from certain soaps, creams and even pets.
Your immune system might not react the first time you encounter an allergen. But over time, your immune system can become sensitive to the substance. As a result, your next contact may lead to inflammation and an allergic rash.
"The most common form of dermatitis that is seen anywhere is an allergic contact dermatitis to nickel," says Katz. "Why? Because of ear piercing." Many inexpensive earrings are made of nickel, and over time, wearing nickel earrings can cause an allergic reaction to the metal.
Other common causes of allergic dermatitis are poison oak and poison ivy. The stems and leaves of these plants produce a chemical that's likely to cause allergies. If you touch one of them, wash your skin as soon as possible. The chemical can also remain in clothing for a long time, so it's important to wash any clothes or shoes—or even pets—that come into contact with these plants.
Mild cases of allergic contact dermatitis usually disappear after a few days or weeks. But if the rash persists, is extremely uncomfortable or occurs on the face, it's important to see a physician. A doctor can prescribe medications that will tone down the immune reaction in the skin. This eases swelling and itching and will protect your eyes and face.
The immune cells of the skin can also produce rashes when they react to invading germs—like bacteria, fungi and viruses. Bacterial and viral infections within your body can cause your skin to break out in spots as well. The chickenpox virus, for example, can cause itchy spots in children. Years later, in older adults, the same virus may reappear as shingles, bringing a painful rash and high fever. Vaccines can prevent several rash-causing diseases, including chickenpox, shingles and measles.
Certain drugs, including antibiotics like amoxicillin, may also cause itchy skin rashes. If you're allergic to a drug, a rash can be the first sign of a serious reaction. As with other allergies, a reaction to a drug may not occur the first time you take it. It could show up after several uses. Not all drug rashes are due to an allergy, however. If you break out in itchy spots after starting a new drug prescription, contact your doctor right away.
While most rashes get better with time, some can last a lifetime. Psoriasis, a condition where skin cells build up into thick red patches, tends to run in families. "It's a complex genetic disease, in that there's not one gene that causes psoriasis but many," says Katz. Even though none of these genes alone has a great effect on the disease, knowing which genes are involved can help researchers design potential new treatments. Other long-term diseases that can produce rashes include autoimmune diseases, such as lupus, and some forms of cancer.
If you notice an itchy or painful rash on your skin, think twice before going to the drugstore and getting some cream if you don't know the cause. "The creams that you buy can produce problems that make your original problem even worse," Katz says. Because rashes can be caused by many different things—bacteria, viruses, drugs, allergies, genetic disorders, and even light—it's important to figure out what kind of dermatitis you have.
"If you have any significant rash, you should see a dermatologist," says Katz. A dermatologist, or skin doctor, is specially trained to figure out what's causing a rash and help you get the right treatment.
Your skin is your protection. It's not just the covering that keeps your body in; it's also your first line of defense against germs and chemicals. Take care of your skin so your skin can take care of you.
NIH Office of Communications and Public Liaison
Building 31, Room 5B52
Bethesda, MD 20892-2094
nihnewsinhealth@od.nih.gov
Tel: 301-451-8224
Editor: Harrison Wein, Ph.D.
Managing Editor: Tianna Hicklin, Ph.D.
Illustrator: Alan Defibaugh
Attention Editors: Reprint our articles and illustrations in your own publication. Our material is not copyrighted. Please acknowledge NIH News in Health as the source and send us a copy.