Community Immunity
How Vaccines Protect Us All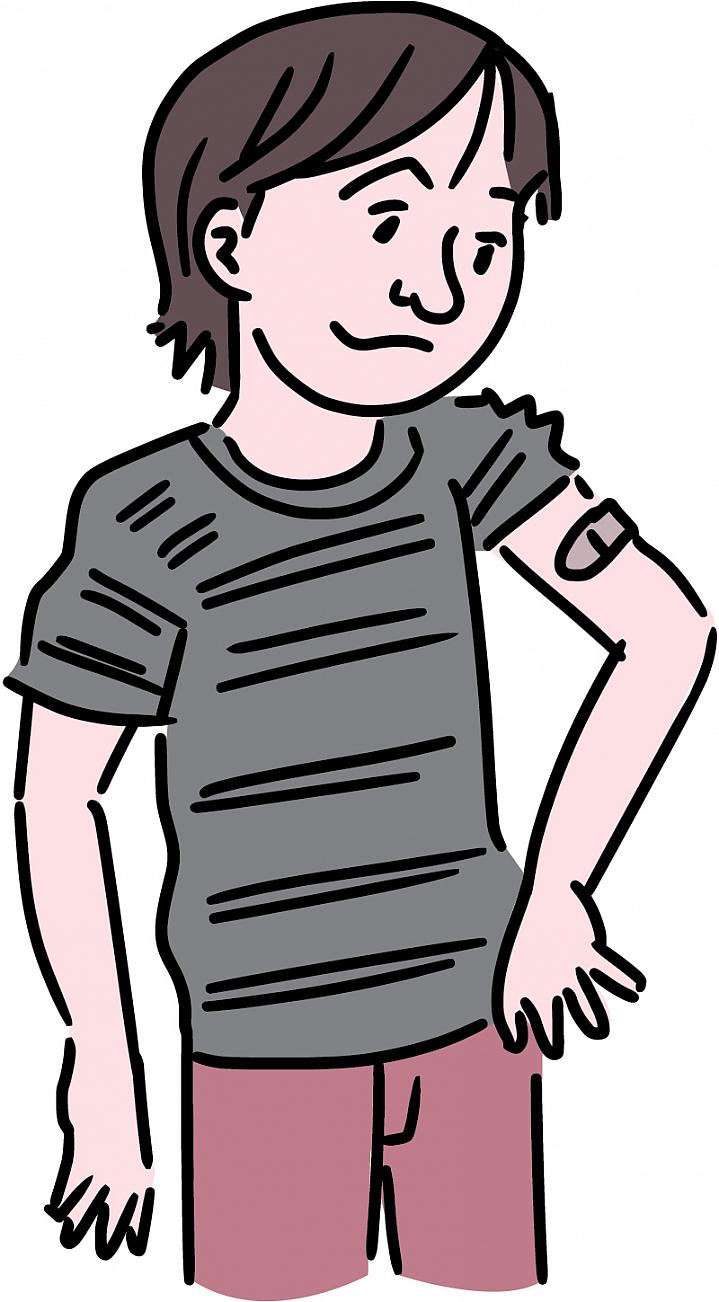 Parents know that kids are vulnerable to a host of infectious diseases. Research supported by NIH and others proves that the benefits of vaccines in preventing illness and death greatly outweigh the risks.
The list of childhood diseases can be overwhelming: measles, mumps, rubella, diphtheria, pertussis, polio, meningitis, influenza and rotavirus. In the era before vaccines, many children in the U.S. died or became disabled from these diseases. Many still do in countries and regions with lower vaccination rates.
With all the international travel in the world these days, it's important to keep vaccines, or immunizations, up to date. Here's just one example of what might happen if you don't. By 2000, immunization had practically wiped out measles in the U.S. But a measles outbreak in 2005 was traced to one unvaccinated U.S. resident infected during a visit to Europe. The returning traveler infected American children who hadn't been vaccinated because of safety concerns—despite study after study showing that childhood vaccines are safe and effective.
A major epidemic didn't emerge that time. That's because enough people in the surrounding communities had already been vaccinated against measles.
"The important concept," says Dr. Marc Lipsitch of the Harvard School of Public Health, "is that vaccinating people protects not only them, but others in the community. If I'm protected, I can protect others."
This type of protection is known as "community immunity" or "herd immunity."  When enough of the community is immunized against a contagious disease, most other members are protected from infection because there's little opportunity for the disease to spread.
Newborns, pregnant women or people whose immune systems are weakened may not be eligible for certain vaccines. Yet even they will get some protection because the spread of contagious disease is contained.
"Epidemiologists think of infections as chain reactions, whose speed depends on contagiousness," says Lipsitch. "The more contagious the disease, the more vaccination is required. The data tells us that herd immunity works."
Using mathematical formulas and computer programs, NIH-funded scientists like Lipsitch have developed models to determine what proportion of the population has to be vaccinated to eliminate the spread of disease. As one example, a worldwide vaccination campaign completely eliminated, or eradicated, smallpox in the 1970s. So many people were immunized that the virus couldn't sustain itself.
More recently, infant vaccination against Haemophilus influenzae type b (Hib, which can cause meningitis) lowered the risk of disease in the whole population. Before the vaccine, Hib struck about 1 in 200 children younger than age 5. It killed many and often left survivors with permanent brain damage. After the Hib vaccine was introduced in the mid-1980s, the incidence of Hib dropped by 99%.
"Infectious disease eradication is possible," says Lipsitch. Even when a disease—such as measles or Hib— hasn't been completely wiped out, immunizations can reduce disease transmission, so that epidemics become less frequent.
When parents choose to immunize, they're helping more than their own. Make sure your child's immunizations are up to date. And talk with your child's doctor if you have any concerns about vaccine safety.
NIH Office of Communications and Public Liaison
Building 31, Room 5B52
Bethesda, MD 20892-2094
nihnewsinhealth@od.nih.gov
Tel: 301-451-8224
Editor: Harrison Wein, Ph.D.
Managing Editor: Tianna Hicklin, Ph.D.
Illustrator: Alan Defibaugh
Attention Editors: Reprint our articles and illustrations in your own publication. Our material is not copyrighted. Please acknowledge NIH News in Health as the source and send us a copy.